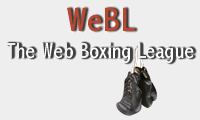 Aleksander Alexeev (retired)
To report offensive fighter names and descriptions click here.
If something seems wrong with this page below here, try the bio sheet without description.
~ Heavyweight Champion ~
~ Former Cruiserweight Champion ~


Aleksander Alexeev stands 6 feet 2 inches (187 centimeters) tall. He fights for the [ATT] Arena Top Team gym in Dortmund, Germany
---
Aleksander Alexeev's Record
Aleksander Alexeev's record is 44-8-0 (30/4) with 10 regional title wins.
His current rating is 18 and his status is 18.
His career earnings are $46,500,686 .
Select any icon for a detailed account of a fight.
| | |
| --- | --- |
| | vs VALUEV ( No Way Out Inc.) - 6 feet 11 inches - Heavyweight bout on August 9, week 450: won by KO in round 10 (1:51 ) Earned $2,309,472 . Score: 85-87, 84-87, 84-87 highlights. |
| | |
| --- | --- |
| | vs Sawney Bean ( Krumbsnatcher) - 6 feet 11 inches - Heavyweight bout on May 25, week 440: won by unanimous decision. Earned $2,099,520 . Score: 116-112, 116-113, 115-113 highlights. |
| | |
| --- | --- |
| | vs dark heaven ( nietzsche) - 6 feet 4 inches - Heavyweight bout on March 30, week 433: won by unanimous decision. Earned $1,872,720 . Score: 120-110, 120-110, 120-110 highlights. |
| | |
| --- | --- |
| | vs Soild Snake ( Da Dark Side) - 6 feet 3 inches - Heavyweight bout on March 16, week 431: won by KO in round 8 (2:13 ) Earned $2,059,992 . Score: 70-63, 70-63, 70-63 highlights. |
| | |
| --- | --- |
| | vs Michael Grant ( Da Dark Side) - 6 feet 8 inches - Heavyweight bout on February 24, week 428: won by unanimous decision. Earned $1,872,720 . Score: 119-110, 118-111, 120-110 highlights. |
| | |
| --- | --- |
| | vs Brusier Barry ( Boomf Bap) - 5 feet 11 inches - Cruiserweight bout on November 18, week 414: won by KO in round 5 (0:49 ) Score: 40-35, 40-35, 40-35 highlights. |
| | |
| --- | --- |
| | vs Michael Grant ( Da Dark Side) - 6 feet 8 inches - Cruiserweight bout on November 11, week 413: won by KO in round 12 (2:19 ) Earned $202,752 . Score: 105-104, 107-103, 106-104 highlights. |
| | |
| --- | --- |
| | vs Daniel Daniel ( UBP Universum) - 6 feet 1 inch - Cruiserweight bout on November 4, week 412: won by TKO in round 4 (2:43 ) Earned $23,958 . Score: 27-30, 27-30, 27-30 highlights. |
| | |
| --- | --- |
| | vs Michael Grant ( Da Dark Side) - 6 feet 8 inches - Cruiserweight bout on September 30, week 407: won by unanimous decision. Earned $32,000 . Score: 116-112, 116-112, 116-112 highlights. |
| | |
| --- | --- |
| | vs Jabari Judah ( The Chop) - 6 feet - Cruiserweight bout on September 16, week 405: won by KO in round 3 (2:53 ) Score: 20-18, 20-18, 20-18 highlights. |
| | |
| --- | --- |
| | vs Max Kellerman ( Da Dark Side) - 6 feet 6 inches - Cruiserweight bout on August 12, week 400: won by unanimous decision. Earned $5,120 . Score: 115-114, 115-113, 115-114 highlights. |